Dutch Still Life and the DUKK BÖRG Announcement
A deep dive of the art that announced DUKK BÖRG going to print.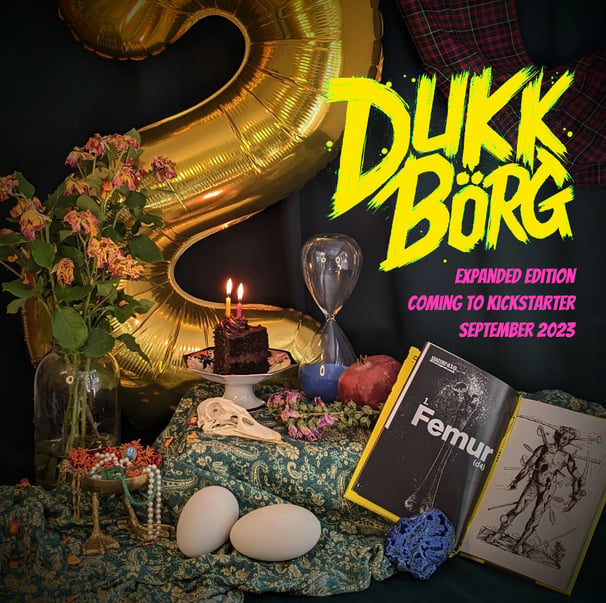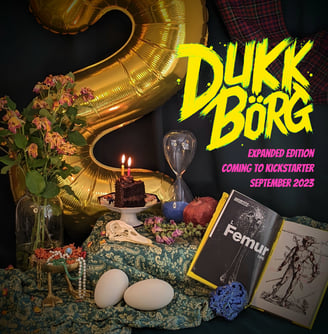 There are a lot of details in there and we love them all. Let's review, shall we?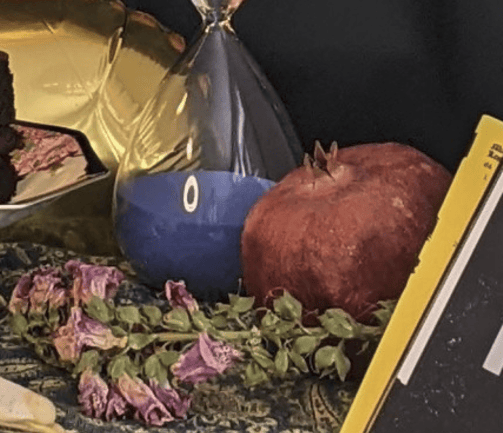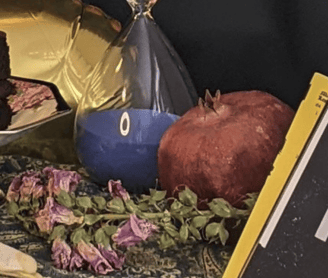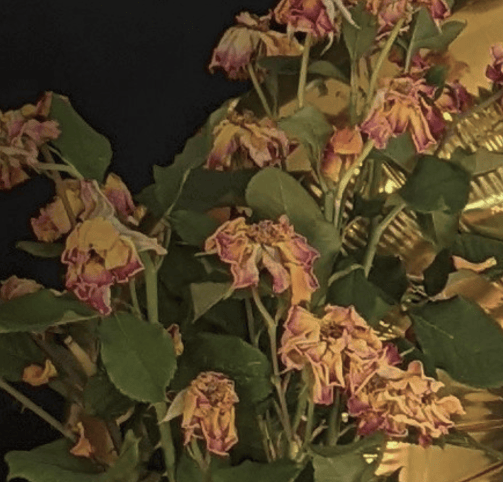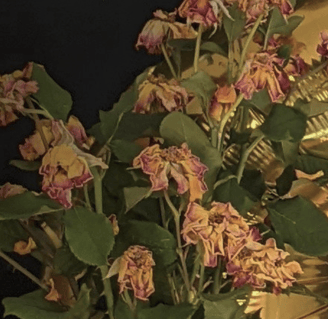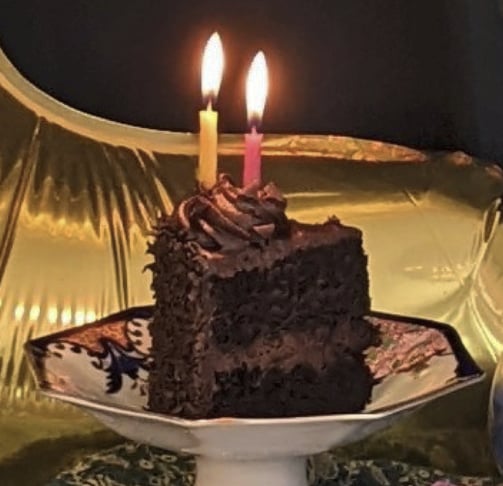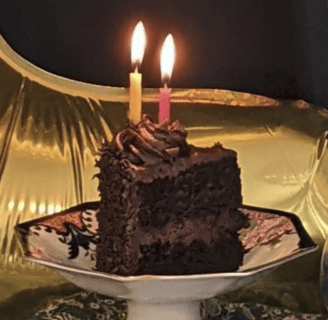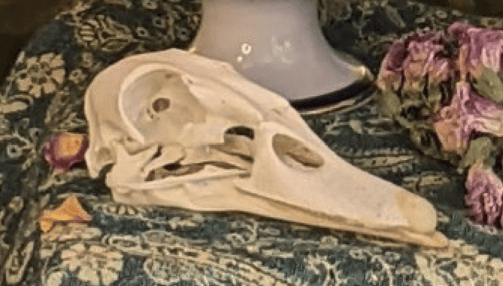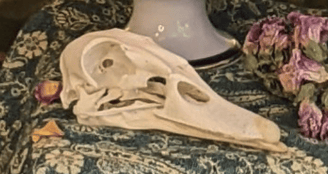 Back before we'd told anyone that we were bringing DUKK BÖRG to print, we had a loose plan to announce the news on the second anniversary of our releasing the original digital edition with some kind of fun visual, but hadn't decided exactly what it would look like.
Then one night, Dan found a starry-eyed Kali opening tab after tab of Dutch still lifes and taxidermy sites, gleefully announcing that she intended to buy a skull. He spent a couple days with their office rearranged around a detailed photography set up that smelled of cake and blown out candles. This was the result:
The hourglass was a gift for Kali, from Dan, to replace one that tidily exploded in a heat wave. It fit with the themes of time passed, anniversaries, "about time." The pomegranate, once fresh, dried hard as a rock in Southern California heat. Dried foxglove was likewise gifted fresh, but dried to brittle fragility instead. The dryness of both echoes 17th century symbols of death and decay, but symbolism of the pomegranate adds a twist, traditionally referring to resurrection - like how we're resurrecting this award-winning module with new content!
Triple chocolate cake on an antique trinket plate with birthday candles in MÖRK BORG yellow and pink. The cake substitutes for more classic symbolism of fresh red fruits like cherries or currants, suggesting the sweetness of eternal life - or in this case, of play. We went through 6 candles and 2 slices of cake taking these photos. Well, technically we ate the whole cake, but only two slices were used for photos.
The orange-pink roses, with their petals strewn across the cloth below, bring us back again to death, decay, and MÖRK BORG. Cut from the bush as we tore it from the soil of our yard, these roses had some of the nastiest thorns we've ever seen, and any number of tiny bugs hiding between their petals. They seemed a fitting tribute.
Meet Grin Gadwall! Grin is the skull Kali bought, and the official mascot of DUKK BÖRG, the EXPANDED EDITION. Grin used to be inside an actual duck! Grin kicks off the series of 17th century Dutch still life-esque references to death and decay, which felt very appropriate for alluding to MÖRK BORG.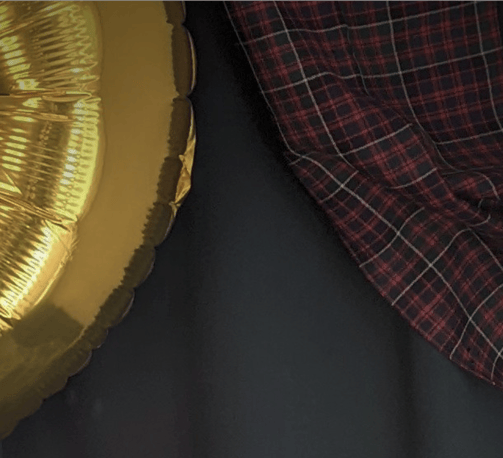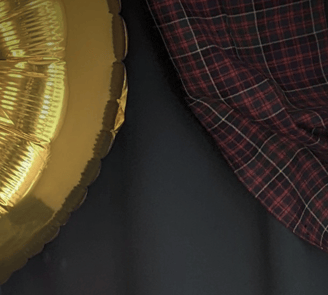 The shining balloon in the background was leftover from a child's birthday party, re-used here to acknowledge the two years of anticipation and encouragement to print since we published the original edition of DUKK BÖRG. Draped in the background, a length of tartan passed down in Kali's family suggests the heritage of a certain famous multiplujillionaire duck.
It took a couple weeks to gather everything (some things had to die, which does take time), a couple hours to set it all up, a couple days of tiny adjustments to placement and light, two cameras, and four rounds of photography to capture this scene. We're really thrilled with how it came out.
DUKK BÖRG is coming to Kickstarter September 12-25, 2023. Click the button to follow along!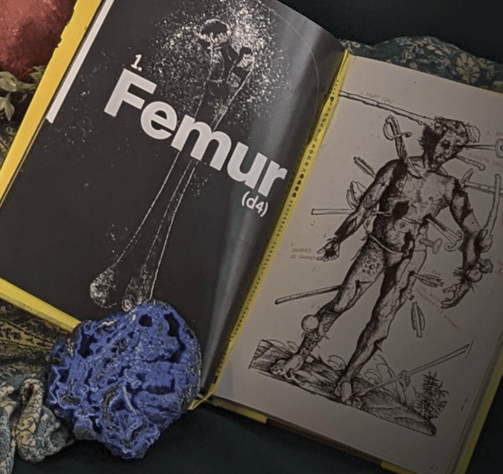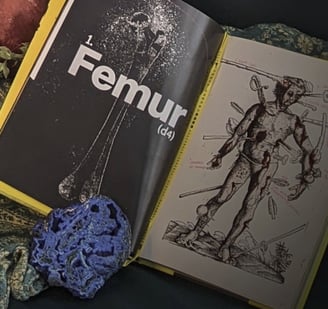 Ah, our favorite page in MÖRK BORG - Femur, d4. It's emblematic of the humor that drew us to MÖRK BORG. The splayed book makes direct reference to the game that inspired our pun. Holding the page is a beautiful chunk of raw azurite, alluding here to the gem & mineral origins of Gem Room Games.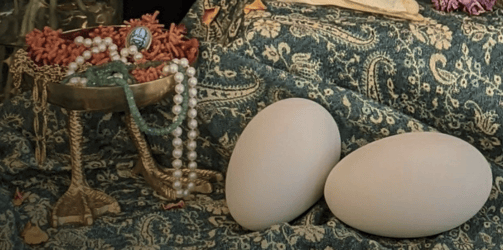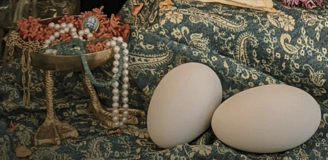 Blown duck eggs get us back into themes of life and death - also ducks, which is appropriate. Though jewels traditionally would refer to materialism, our duck-footed tray of gems and jewels refers to the classic TTRPG activity: dungeon delving in pursuit of wealth and achievement. Also, ducks!