Life is like a hurricane here in ... DUKK BÖRG!
Expanded Edition coming to Kickstarter!
September 12-25, 2023, DUKK BÖRG is coming to Kickstarter with updated content, a new starter adventure, and an expansion inspired by Darkwing Duck! Click the button above to follow along!
Once the gleaming jewel of Calisota, a fowl wind now blows down the streets of DUKK BÖRG, abandoned by all but those foolish enough to travel there and those cruel enough to survive. The treasures of long dead merchant-emperors call to you, and so you and your clan have flocked as birds of a feather to almost certain ruin. Mysteries are yours to solve, histories are yours to be written. For every day you will be out there, facing...
DUKK BÖRG!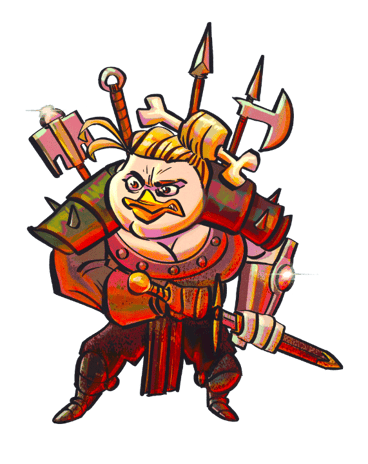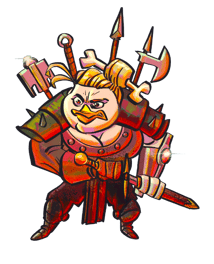 DUKK BÖRG is a grindhouse fantasy tabletop game about duck-human hybrids banding together in pursuit of death or treasure before the world ends. Inspired by the beloved Saturday morning cartoon DuckTales, DUKK BÖRG introduces characters, places, and treasures found long after the McDuck clan's adventures have finished, the moon has exploded, and the sun has turned red in its dying days.
Designed to be used with the award-winning tabletop rpg MÖRK BORG (2020, Stockholm Kartell), DUKK BÖRG takes the beauty and brutality of MÖRK BORG and uses them to emphasize what we all loved about DuckTales: unlikely heroes, high stakes adventure, found family, and the pursuit of outrageous wealth that can all be found amongst the wreckage of racecars, lasers, and aeroplanes. The MÖRK BORG compatibility of DUKK BÖRG ensures that the characters, settings, and other elements of DUKK BÖRG may be played as a complete setting, or alongside those of MÖRK BORG for delightful, if horrifying, juxtaposition.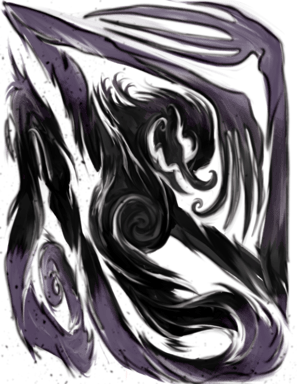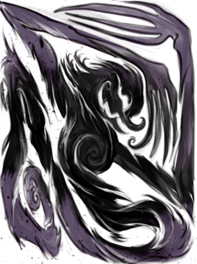 Key features
A map of the doomed city of DUKK BÖRG and surrounding Calisota, featuring SKRUJ's castle, his ancient Citadel of Gold, Hookbill Henge, and The Moon.

A new theme psalm that counts down the world's demise with hurricanes, racecars, lasers, aeroplanes, and strangers out to find you.

Rules for creating your own clan in the McDuck tradition.

Four new optional character classes, including the avaricious Treasure Hunter and eccentric Gizmo Speaker.

Five adversaries and six disreputable associates seeking the same wealth as you.

Twelve treasures and artifacts based on the Ducktales back catalog to retrieve or die trying.

All of it compatible with any MÖRK BORG adventure!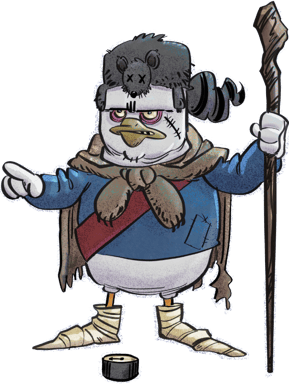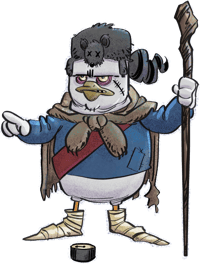 Developers
DUKK BÖRG writing and layout was done by Gem Room Games, with illustrations by The Nerdy Paper Games of Rob Hebert.
Gem Room Games
Gem Room Games is Dan Phipps and Kali Lawrie, a game design partnership making weirder, funnier, and faster games for people who've never enjoyed a tabletop RPG before.
The Nerdy Paper Games of Rob Hebert
Rob Hebert draws pictures and designs tabletop RPGs under the handle Nerdy Paper Games. Look for him on Twitter, Instagram, and itch.io if you like vampires, ducks, or other spooky things.
Dukk Börg is an independent production by Gem Room Games and Nerdy Paper Games and is not affiliated with Ockult Örtmästare Games or Stockholm Kartell. It is published under the MÖRK BORG Third Party License.
MÖRK BORG is copyright Ockult Örtmästare Games and Stockholm Kartell.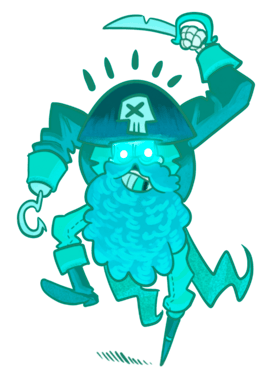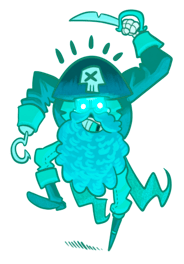 Bell of Lost Souls Five Favorite TTRPGS of 2021


"Seeing this module when it was released was the reason I finally read MÖRK BORG and thought about playing it on its own merits. Like a lot of good parody, it helped me better understand the tone of the thing it was parodying – that I was not supposed to take it seriously. Any module that can do that, make me laugh out loud a half dozen times, and hold my attention for its full length (it's the perfect length) has accomplished something impressive."
- Sam Dunnewold (@sdunnewold)
"On [the Treasure Hunter] page, you can see how the MÖRK BORG's overall structure remains [in DUKK BÖRG] while its visual aesthetic sloughs away. That's good! The bones were solid; I'm excited to see these aesthetics bear new fingerprints! Mimicry is step 1 in a game's life. This is step 2."
- Clayton Notestine (@ClayNotestine), via Twitter
"Writing-wise, DUKK BÖRG is glorious. It knows exactly what it's doing and how silly its straight-faced Duck Tales OSR concept is, but it commits. It's easy to get immersed in this tale of duck liches and cruel wealth, and that takes some serious chops to pull off."
- Richard Kelly of Sprinting Owl Designs (@sprintingowl)